An #OOTD post is something that most of us would come across online several times a day. Whether they are of friends or of random people, these posts do not only give us an idea on the latest fashion trends or what to wear the next time we go out but they also give people a chance to express their own sense of style. Although we all have our own considerations on how to decide which specific look to go for on a specific day (such as comfort, style, the weather, our present mood, etc.), I'm sure that most people would agree that there is one important factor that can truly help us pull off the look that we want – confidence. And it's not just about looking confident but also about feeling confident.
For moms like me who are always on the go and have to attend to multiple tasks throughout the day, it is important that we do not only put together an outfit that make us look good but also make us feel confident. We also need to have products that we can rely on that will make us confident as we go through the day,whether we putting together a creative and nutritious lunch for the children, attending a parent-teacher conference or doing some last minute grocery shopping for some food essentials.
This is why having good personal hygiene habit is important. We need to have access to safe and effective personal hygiene products that will make us feel clean and confident throughout the day. It can be such as hassle and not to mention time consuming if we have to take a trip to the nearest restroom several times a day just to make sure that we still look (and smell) good.
One of these essential must-haves for women would have to be a feminine wash. The use of a wrong one can cause different problems such as irritation and skin breakouts.
If you are still in the process of choosing a feminine wash, then look no further, because Unilab, a trusted name in quality health care, has recently launched a new line of feminine wash that caters to the varying needs that women of different lifestyles have. Priva Intimate Wash has two variants that offer specialized benefits that I'm sure any woman would love.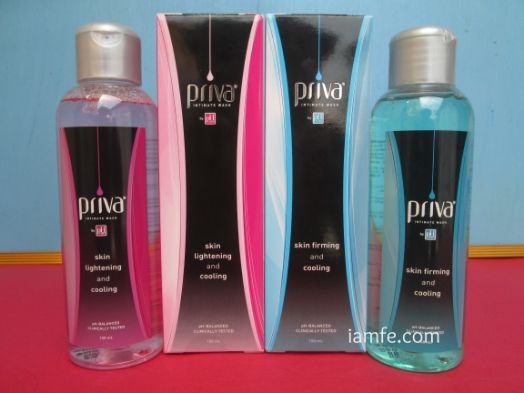 What is Priva ?
Priva Intimate Wash by pH Care is the first and only cooling wash that is formulated to give extra special benefits and to revitalize the delicate feminine area. Cooling is still one of the drivers for freshness and cleanliness when it comes to feminine wash usage – the cooling is brought about by Revitacool™, a special ingredient that leaves a tangible cooling effect. It is a product of Unilab, a trusted name in safe, effective and affordable healthcare products.
It has a pH-balanced formulation combined with tried and tested ingredients that deliver a number of benefits including skin lightening, firming and improved skin elasticity.
Priva Skin Lightening and Cooling
♦          Formulated with gluthathione, a renowned whitening ingredient, and natural strawberry extracts that help lighten dark skin areas.
♦          Contains Revitacool™, a gentle cooling ingredient to keep you cool and refreshed every time you wash.
Priva Skin Firming and Cooling
♦          Formulated with collagen, a known firming ingredient combined with natural extracts of Kwao Krua, an herbal root found in Thailand, that helps improve skin elasticity and firmness.
♦          Has Witch Hazel extracts that help retain the skin's natural moisture.
♦          Contains Revitacool™, a special ingredient that gives an extra cool feeling after wash.
Is Priva safe for everyday use?
Despite the product having specialized benefits, Priva Intimate Wash is clinically tested by obstetrician-gynecologists to be safe for everyday use in the intimate area and, with regular use, to deliver noticeable skin lightening in 2 weeks and skin firming in 6 weeks.
My take:
I was given the opportunity to try both variants and I must say that I am satisfied with both of them. I have actually been using pH Care for years now but I wasn't hesitant about trying Priva since it is also from Unilab. I am very particular about trying new products particularly personal hygiene products because I don't want to have the same unpleasant experience that I've had with the other products that I have tried before. I am also prone to skin irritations and allergies which is why I stick to specific products that are suitable for me.
What I like about Priva is that it truly makes me feel fresh and clean all day. I also like the fact that the smell is not overpowering. For now, I can't attest to the skin lightening and skin firming effect that Priva offers since I have only been using the product for a little over a week. What I can say for sure is that aside from being safe for everyday use, the cooling effect does last for hours and it's also very practical because a 150mL bottle will surely last for a long time since a small amount is enough for every wash. I do hope that they will also have Priva feminine wipes in the near future just like pH Care.
Whatever outfit you may choose at any given day, it can only be effective and worthy of an #OOTD post if you are confident and you stay confident all day. And I believe being confident begins with knowing that you can stay clean and fresh all day by using safe and effective products such as Priva.
Learn more about Priva and Unilab through Facebook  |   Twitter  |   Instagram   |   Youtube
Disclaimer :  I received no compensation for this review apart from the products (Priva) sent by Unilab. Opinions expressed are 100% my own and may not necessarily conform with those of yours. These opinions are based on my own experiences after using the said product.