There are any number of reasons why you might be experiencing daily stress due to a shortage of storage space. Perhaps you chose a compact apartment with tiny closets in order to live in a location that you consider ideal. Maybe a small house or apartment with few closets was the only thing that fit your budget. It could simply be that you have increased your wardrobe collection since moving into a place that you thought had sufficiently sized closets. Whatever the circumstance may be, the solution to your dilemma could be to add some free standing storage furniture to your room design.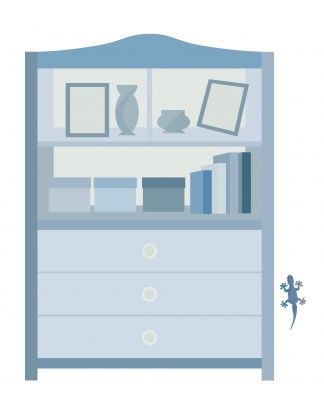 You can solve a shortage of closet space in your bedroom or a child's bedroom with the addition of a four drawer dresser. The ideal solution is to find a source for armoires and dressers that offers a variety of interior configurations. This is almost like getting custom designed bonus storage space for your home. What's even better is to discover that you can buy matching items such as beds and bedside tables. Your lack of closet space can be a source of inspiration for creating a bedroom design that features a variety of furniture pieces created for the purpose of increasing your storage space.
As you explore armoires for the bedroom, you might find yourself selecting a computer armoire for your office or family room. Matching wall units and accent tables can be added to maintain order and enhance the attractiveness of a casual living area.
*Image source: koratmember at FreeDigitalPhotos.net