A major bookstore had their warehouse sale two weeks ago and we were able to go there on the last day of the sale. Huge discounts of up to 80% were being given and they were given even for new releases, not just the old books. I have been meaning to buy some reference books for the kids and some self-help and marketing books (which can be very expensive) which is why I made sure that we were able to go to the warehouse sale. Aside from some reference books, the kids are also looking forward to buying some school supplies while the husband wants to buy some art supplies.
Here's a photo of the books that we bought that day: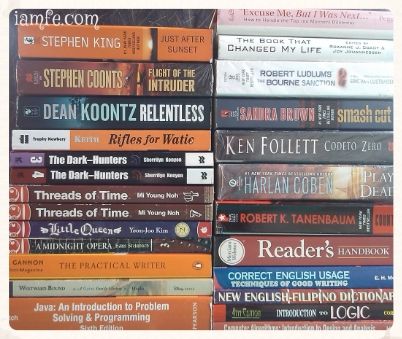 There were a lot of people that day since it was a weekend and the last day of sale, but fortunately, the kids were very patient in scouring the whole place for the books and supplies that they want. We paid around 1,200php (that's about 27USD) for all of them including two gadget binders, two wooden flutes and USB/Memory card reader. The computer books and manga books are for our eldest while our youngest chose a novel, a reference book and the flute. Hubby chose to buy a flute, the gadget binder and some art supplies. Our youngest was particularly excited about the flute because it was indeed a great steal since it was being offered at a 70% discount rate. He said he will be watching some online tutorials so that he will learn the basics of playing the flute. Although he is more keen on buying a new guitar, similar to the lx1e at guitar center he saw online, he is also excited about his new flute because they have been studying about them in school as well. He also plans on watching video tutorials online so that he will learn how to play the flute during his free time (which is more likely after his exams two weeks from now). Anyway, I am very happy with our purchases (even though I wasn't able to buy the marketing books that I want) because we were able to buy some great reading materials and of course, availed of some huge discount.